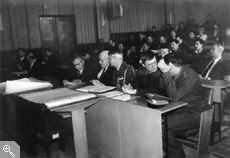 The idea to establish a Museum on UN Peacekeeping was born at the 1-st Russian National Conference «Peace-keeping Operations. Problems and Experience» held in Moscow and Solnechnogorsk, April 11-12, 1993. It was formulated after observation of a small exhibition (a blue helmet and a few shoulder straps) by the Deputy Minister of the Interior of Russia then Lieutenent-General A.S.Kulikov and was supported by participants of the conference.
The first exhibition of the Museum under the title «In the Service of Peace and Humanism» was open for the public by the Union of Peacemakers May 18-20, 1995 in the Federation of Peace and Accord (Moscow, Prospect Mira, 36). A few artifacts of the exhibition were shown over national TV by "Mir" (Peace) broadcasting company.
The second exhibition «UN Peacekeeping: In the Service of Peace» was organized October 18-28, 1995 by the Union of Peacemakers in collaboration with the UN Information Center in Moscow, on the occasion of the 50-th anniversary of the United Nations. At the opening ceremony the Deputy Chairman of the Council of the Federation of Russia Ramazan Abdulatipov underlined, that this kind of exhibition may be useful both for experts and for schoolboys for the study of the UN history.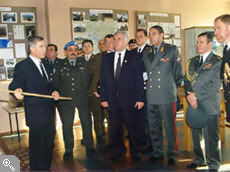 December 1996, at the request of the «Vystrel» Military Academy Command the Union of Peacemakers moved the exhibition named «Museum of Peacekeeping Operations» to the territory of Russian Center for Training of UNMOs (Solnechnogorsk) where it is used for training of Russian and international peacekeepers as well as for presentations for Russian and foreign delegations.
7 years after its foundation the Museum enjoys support of Russian Foreign affair, Defence and the Interior ministries and receives assistance from the UN Information Center in Moscow, «Vystrel» military Academy (now — Training Center of the Combined Arms Military Academy), UNA — Russia and Moscow government.
Exhibitions organized by the Museum were visited by approximately 1500 persons. And among them there were over 400 children participants of the game «Model of UN Peacekeeping».