Глава вторая. Российский компонент вооруженных сил Организации Объединенных Наций
Раздел I. Они были первыми
1. Советские наблюдатели вступают в ОНВУП
(PAL: MAC: MOB)
UNITED STATES AND SOVIET OBSERVERS TO JOIN UNTSO
UN 124,09 2 CAIRO, Egypt, 26 November 1973
The United States and the Soviet Union will each send 36 observers to join the United Nations Truce Supervision Organization in Palestine (UNTSO). These observers, who will man observation posts or be assigned to patrols, will co-operate with the United Nations Emergency Force in carrying out its mandate.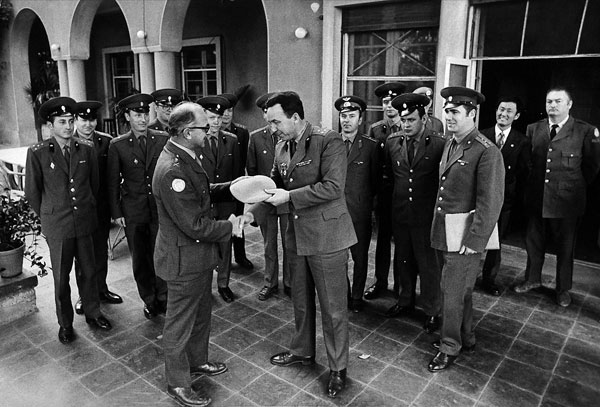 UNITED NATIONS/Y.NAGATA
Here, Col.R.W. BUNWORTH (left) of Ireland, Acting Chief of Staff of UNTSO, is seen presenting a Blue Beret (symbol of the UN Peace-keeping Forces) to Col.Nikolai BELIK, member of a group of twelve Soviet Observers who arrived in Cairo.
---